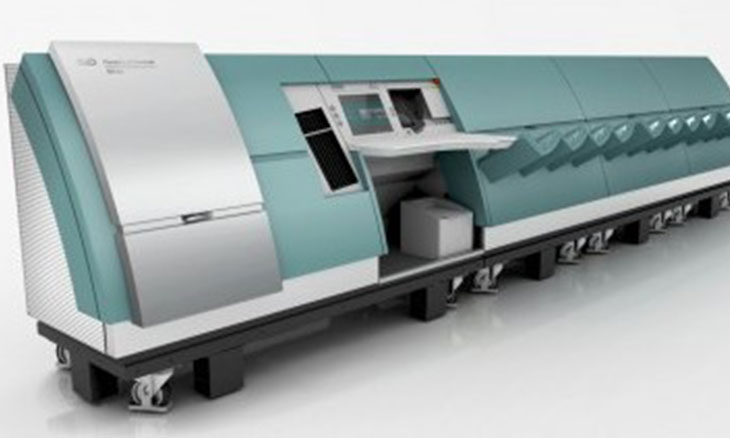 News
/ 01-Jan-2018
G & D are APSG manufacturing partner for Banknote Processing Systems
Deploying and managing maximum security throughout the cash cycle
Advanced technologies for processing, sorting and assessing banknotes
The broad range of high-quality banknote processing systems from G&D is able to meet the highest demands of every type of cash center. All its systems for processing, sorting, and assessing the authenticity and condition of banknotes are continually adapted by G&D to meet legal stipulations, market demands, and security requirements.
Banknote processing systems can be easily incorporated into end-to-end solutions, to include software and software for processing, packing and – in the case of central banks and banknote printers – destroying banknotes.
Rising costs and time pressures make it necessary to automate and increase efficiency throughout the cash cycle. Along with the introduction of new services, such as recycling, come new requirements. Reason enough to add another desktop system to the BPS product line: the BPS C4.
The BPS C4 has a broad application spectrum, groundbreaking operation and the latest in sensor technology.
Broad application spectrum:
The system is used around the world and is designed for a wide range of materials – be they paper or polymer, hot off the press, heavily soiled or damaged deposits. From banknotes to casino tickets, the BPS C4 can process everything.
High flexibility:
The BPS C4 is modular and scalable and can therefore adapt perfectly to any processing requirements. It supports different processing modes, including the particularly efficient header card processing and rapid deposit processing variants. Operators can achieve even more flexibility by using the large delivery modules (LDM), which can process up to 500 banknotes. This is an advantage both when filling ATM cashboxes and when collecting unusual denominations and sorting them at the end of processing.
High throughput, low processing costs:
Only one operator and one pass are required for the different sorting procedures. Up to 20 delivery compartments with variable configurations allow a maximum number of processing jobs to be run in parallel at speeds of up to 12 banknotes per second, or 40,000 banknotes per hour. Banknotes can be fed into the singler continuously without any problems.
Groundbreaking operation:
Innovative, intelligent, intuitive – a novel operating concept with touch screen supports the user every step of the way, and in every situation.
Top-level security:
G&D offers an industry-leading standard when it comes to counting and denomination identification, authentication, and fitness inspection by providing two-sided, full-surface banknote scanning. A separate fail-safe compartment guarantees simple jam recovery with correct accounting.
BPS M5
With the BPM M5, G&D has developed a modular system for banknote processing that is ideally suited to the requirements of major cash centers in the commercial sector, providing commercial banks, security transport companies and casinos with a powerful and reliable solution. In addition to being capable of processing up to 33 banknotes per second – the equivalent of 120,000 banknotes per hour – the BPS M5 is also designed to achieve this level of productivity in continuous operation 24 hours a day, 7 days a week.
This high performance is facilitated by a number of practical features such as the large feed compartment which opens and closes automatically. Operators can enter up to 4000 banknotes at once, freeing up their work time for other tasks. The cleaning unit, which vacuums dust directly from the system where it arises, helps increase efficiency. It is attention to details such as these, following 40 years' experience in banknote processing, which make our systems so outstandingly productive and reliable.
BPS M5 – The modular system for the challenging task of sorting and processing banknotes
Remote Service
Cash Center Automation
Banknote Processing Service